BIKES
With over 18,000 square feet of bikes and accessories, you can find your bike here, whether you're a roadie, trail rider, commuter, or a kid.
Trek and Cannondale are our major brands, with BMC, Pinarello, and Salsa covering a wide range of prices, and styles, including road, mountain, hybrids, city bikes, and more,
If custom bikes are more your style, check out the Moots and Seven Cycles line. With our experienced in-house fitters we have the ability to make your dream bike a reality.
100% Satisfaction Guarantee
Our goal is to get you on the perfect bike for you. If, for some reason, you don't love your bike after you get it home, we'll take it back. Really.
Low Price Guarantee
Feel secure that you are getting the most for you money at Mellow Johnny's. If you see a lower price at another shop, we will meet or beat their price.
Lifetime Brake and Derailleur Adjustments
When you buy a bike from MJ's, we will adjust your brakes and derailleurs forever—free.
15% Off Accessories with a Bike Purchase
When you buy a bike at MJ's, take 15% off all the accessories you need, like helmets, shoes, flat kits, bottles, and other gear.
ROAD BIKES
Our selection of road bikes covers the spectrum of specs, components, frame characteristics, and price points. Whether you are setting your sights on your first charity ride or the podium at the Tour we'll have something to meet your goals.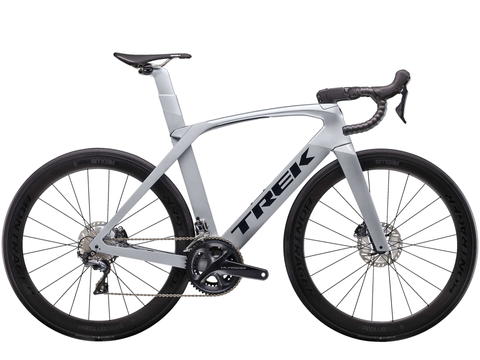 TREK Madone SLR 6 DISC
Madone SLR 6 Disc brings the ultimate race bike platform to the next level of performance with road-smoothing Adjustable Top Tube IsoSpeed, a slider on the top tube that allows you to fine-tune the amount of compliance in your frame. Race-worthy parts and wheels, hydraulic disc brakes, endless adjustment options, and our lightest 700 Series OCLV Carbon make it the right choice for anyone who wants to add more trophies and medals to their collection.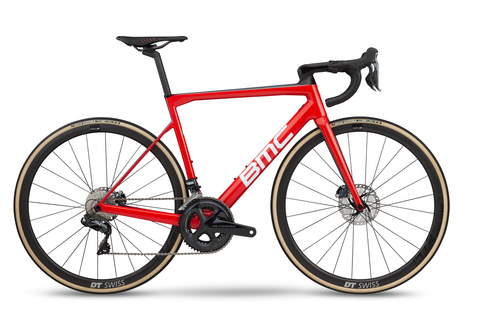 BMC Teammachine Disc
The Teammachine has won them all; the Tour de France, the Olympics, World Championships, and grueling Classics. To bring you the new Teammachine, BMC pushed the boundaries of advanced cycling technology. Its creation has been all-encompassing. They leveraged decades of in-house carbon expertise, and explored the possibilities by applying their ground-breaking ACE Technology. The result is the pinnacle of performance in competitive cycling: the world's raciest balance of light weight, stiffness and compliance, perfected with maximal integration and Swiss design.
Specs at a Glance
Integrated Cockpit System: Clean aesthetics and maximum adjustability with integrated Device Mount - Mount your GPS or camera but keep the cockpit clean.
Asymmetric Tube Design: Balanced ride feel, stiffness where necessary, yet compliant where desired.
D-Shaped Seat Post: Compliant due to its edged shape. Less material translates to less weight.
No-Gap Seatclamp - Great looks and extra compliance for long rides.
Core Stiffness: Dramatic Bottom Bracket stiffness for best-in-class acceleration.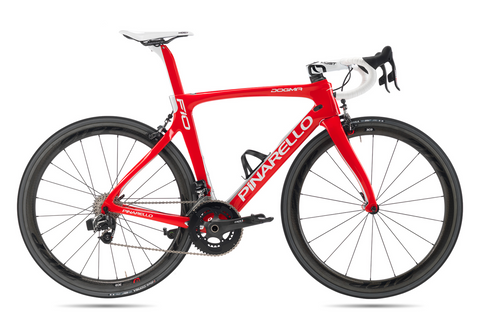 Pinarello Dogma F10 199 Volcano
Currently the fastest bike in the world, the current hour with Sir Bradley Wiggins, time trial World Champion with Kiryenka and winner of the Tour de France 2016 with Chris Froome. The Dogma continues to wow in beauty and in performance.
Specs at a Glance
It adopts the super-efficient Flatback ™ from the Dogma F8, with new tube design from the BOLIDE TT which increases aerodynamics and llateral stiffness.
Carbon Torayca T1100 1K Dream Carbon with Nanoalloy Technology
Asymmetric Frame Fork WAVE F10 with ForkFlap ™
Think2 System with E-Link ™
ICR ™ Internal Cable Routing
Drop in Bearing System 1 "1/8 - 1" 1/2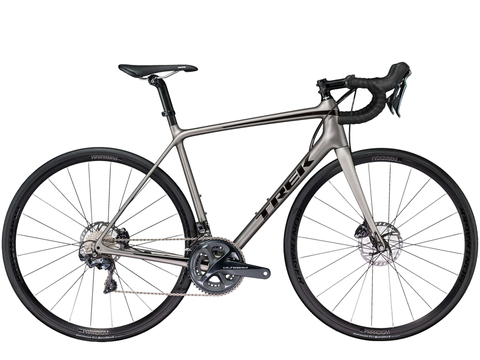 Trek Emonda SL6 DISC
Émonda SL 6 Disc has all the advantages of an ultralight carbon road bike, with the added benefit of hydraulic disc brakes for all-weather stopping power. A full Shimano Ultegra drivetrain and front and rear thru axles make it a great choice for fast roadies who want the extra confidence of brakes that perform in any conditions.
Specs at a Glance
Ultra-light with race-ready parts
500 Series OCLV Carbon frame
Shimano Ultegra groupse
Bontrager Paradigm Disc Tubeless Ready wheels
Front and rear 12mm thru axles for added stiffness
Flat mount disc brakes for better braking and more precise modulation.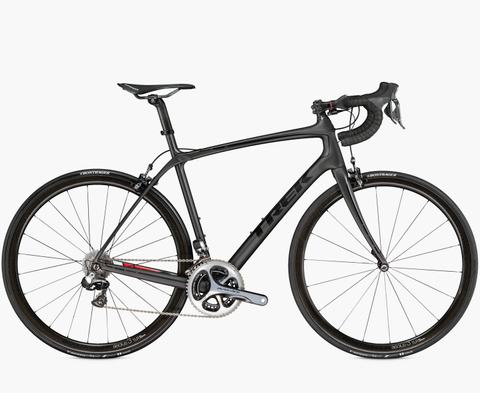 Trek Emonda ALR 5 DISC
Émonda ALR 5 Disc is a lightweight aluminum road bike with powerful hydraulic disc brakes, a reliable 2x11 Shimano 105 drivetrain, and an advanced alloy frame that gives it the sleek looks and handling of a far more expensive carbon bike. If you want to ride fast but not break the bank, this is the bike for you.
ENDURANCE ROAD
These road bikes are built for distance and comfort, with the capacity for wider tires for gravel riding.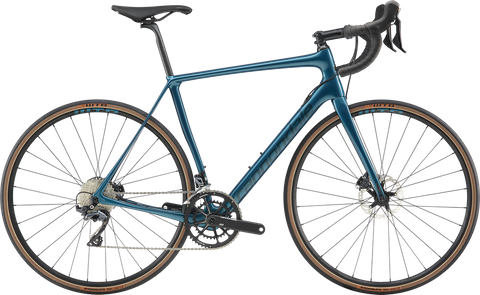 Cannondale Synapse Ultegra Disc SE
The Synapse boasts pure endurance performance with comfort, stability and performance on less than ideal surfaces. Go fast and long, but also go for more. Big tires on wider rims let you get after it on roads others fear to tread.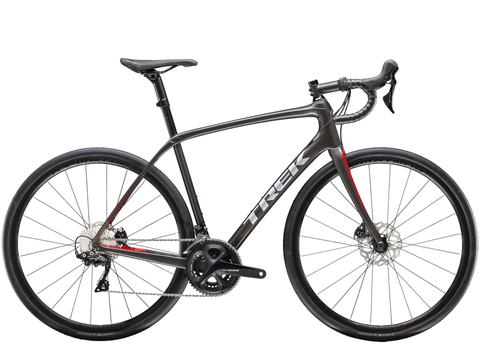 Trek Domane SL5 Disc
Domane SL 5 Disc is all about smooth riding, speed, and versatility at a great value. It's great for riders who want to make the jump to carbon, and want to get a lot for their money when they do, including disc brakes, a performance drivetrain, and Front and Rear IsoSpeed.
Specs at a Glance
It's a lightweight carbon bike with disc brakes at an exceptional value, with dependable parts that keep the price in check without compromising performance
It's the most affordable bike with disc brakes and IsoSpeed in both the front and rear
Domane SL 5 Disc is fully capable of racing and riding rough roads in all weather conditions
This bike has a "go anywhere, do anything" mentality, which makes it the perfect companion for your most epic road adventures
A 500 Series OCLV Carbon frame
Front and Rear IsoSpeed
Powerful flat mount disc brakes
Full 2x11 Shimano 105 groupset.
Internal cable routing for a clean look
GRAVEL & ALL-ROAD
Gravel and all-road is a rapidly growing segment of the road bike market. These bikes have generous tire clearance and geometry that is more stable and forgiving than traditional road bikes.
In the early days, riders tackled gravel endurance events on cyclocross bikes with the largest tires that would fit between the stays. Today, there are numerous machines that gravel-curious riders can choose from.
All Road offers similar geometry and tire clearance with the addition of fender and rack mounts to equip you for adventure cycling.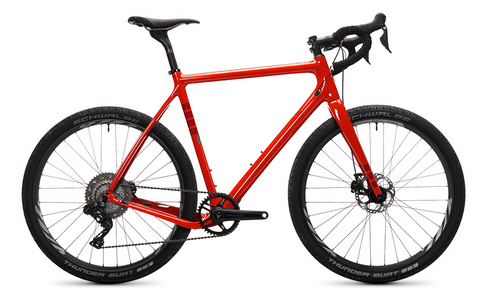 Ibis Hakka
It's a gravel bike. It's a road bike. It's a cross bike. It's an adventure bike. Somehow, the Hakka MX can cover it all, and fast.
It's the bike we'd choose if we could only have one bike. The Hakka MX is a gravel bike. It's also a cross bike and a road bike. Bikepacking? Absolutely.
LIGHTWEIGHT
With its ultra versatile geometry and 1000g frame weight, the Hakka MX is just as happy crushing the local club ride as is it is jumping barriers or camping out.
VERSATILE
It's good to have options. With the Hakka MX, you can run road, cross and gravel friendly 700c wheels, or if you are into burlier backcountry exploration, go with 27.5/650b. With the Hakka MX, you don't have to pick one tire option or the other. Our subtle sculpted chainstays give the frame clearance for up to 700 x 40c or 27.5 x 2.1" tires.
CABLE ROUTING OPTIONS
No matter what drivetrain you prefer, 1x, electronic, or 2x, the Hakka MX has you covered. The frame has internal cable routing provisions for every drivetrain on the market, plus a dropper post. We've even included a slick Di2 battery mount inside the downtube.
DISC BRAKES & FENDER MOUNTS
The Hakka MX has flat-mount rear disc mounts and fits a 160mm rotor. There's also a removable rear fender mount on the seat stays.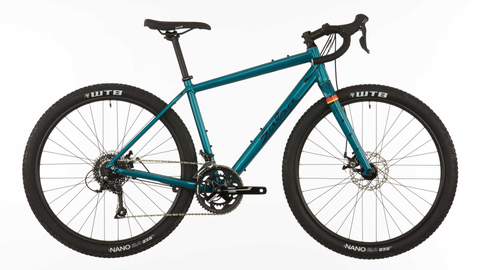 Salsa Journeyman
Salsa "paved" the way for gravel and all road machines. This bike is a true do-it-all bike because of the many configurations it offers, including wheel size, tire clearance, mounts galore, and handlebar options.
Journeyman Sora 650 offers a great mix of speed and comfort for a variety of missions. The wider tires allow you to ride with ease on rough terrain with good traction and stability. The Shimano Sora drivetrain provides speed and efficiency both on and off the road.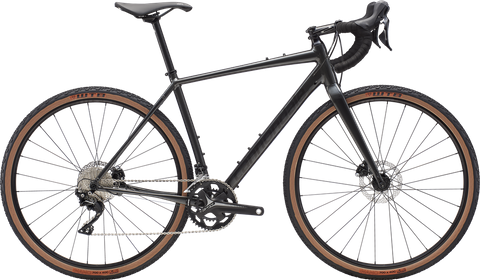 Cannondale Topstone
The Topstone is pure gravel goodness. With its high-volume tires, confident rider position and sporty handling, Topstone is ready to smash out big miles on the backroads, explore routes less traveled, or smooth out the chop on your morning commute.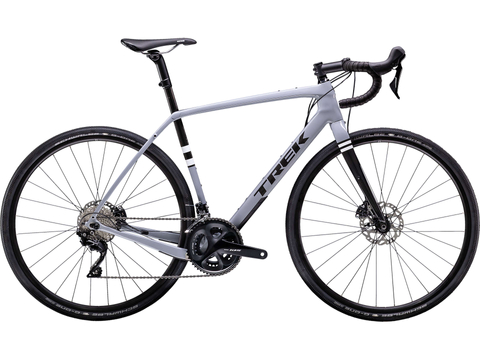 Trek Checkpoint
Checkpoint SL 5 is a carbon gravel bike made for epic all-road adventures. It's built with a full Shimano 105 drivetrain and hydraulic disc brakes, but the defining feature of this model is the lightweight OCLV Carbon frame with IsoSpeed, a decoupler at the top tube/seat tube junction that provides additional compliance over rough terrain so you can stay stronger longer.
MOUNTAIN BIKES
We cover a lot of ground with our MTB selection with brands, suspension, wheel size, tire capacity, frames, and more. Here are a few examples.
Full Suspension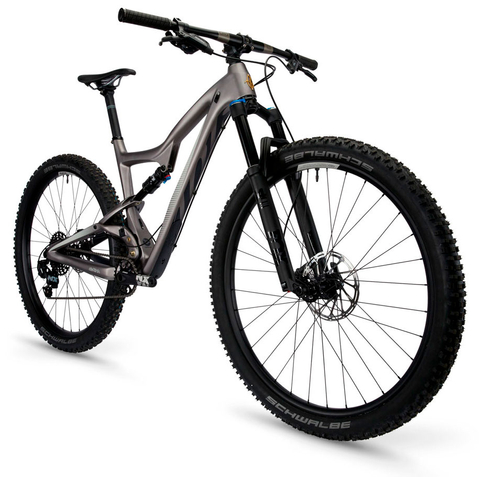 Ibis Ripley LS
Some of our staff think this could be the best full suspension bike there is. This is the 3rd generation of the jack-of-all-trades Ripley LS, featuring an all new frame with increased stiffness and clearance for the new generation of 29" tires. The proven dual eccentric dw-link suspension keeps the tires in touch with the ground so your power is applied efficiently.
The new swingarm accommodates the 2X Shimano side swing front derailleurs including Di2 (and of course 1X). The front derailleur mount doubles as a nice upper chain guide mount.
TIRE CLEARANCE
The new crop of 2.6" tires when paired with the 35mm internal width rims deliver elbow-dragging traction. You can run these high volume monsters at low pressures, delivering incredible traction and stability.
DW-LINK SUSPENSION
The dw-link suspension design is universally acclaimed as one of the best bicycle suspension systems. The Ripley LS uses the EWS World Championship winning V5 dw-link. The dw-link gives the suspension a wide flat platform across the pedaling range for maximum efficiency and bump compliance. Simply put, it tracks the ground without sapping your energy.
SUSPENSION INNOVATION
The suspension operates via innovative dual-eccentric links. Instead of using external linkages like Ibis does on their longer travel bikes, they were able to construct the Ripley with two small eccentrics, hidden inside the seat tube, which act as the suspension linkages. The bearings are located inside the seat tube, where they are shielded from wheel spray and contamination. The look is very clean, as everything is hidden inside the frame.
The eccentrics were a huge engineering challenge that resulted in many nice benefits.
Cannondale Habit
Completely redesigned for 2019, the ALL-NEW Habit gets a new look, progressive geometry and the new Proportional Response suspension design, turning this do-it-all fun machine into a full-on trail slayer.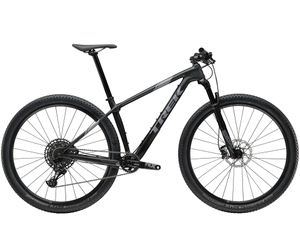 Trek Procaliber 9.6
Procaliber 9.6 is a lightweight carbon hardtail with the unique advantage of our trail-smoothing IsoSpeed decoupler. It's the most affordable carbon model in the Procaliber mountain bike family, and it's built for speed and efficiency on singletrack with an OCLV Mountain Carbon frame, a SRAM 1x12 drivetrain, and a RockShox Recon Gold RL fork.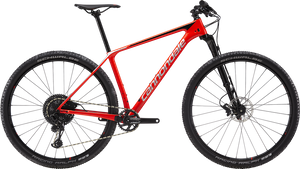 Cannondale FS-i
If you're obsessed with XC, the all-new F-Si is the bike for you. Built to climb faster, descend harder, and sprint better than any other hardtail out there, it's serious XC goodness for those with serious XC issues.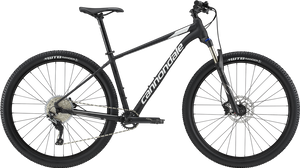 Cannondale Trail 3
With its progressive geometry, impressive construction and high-end features, the Trail offers unreal performance and killer value.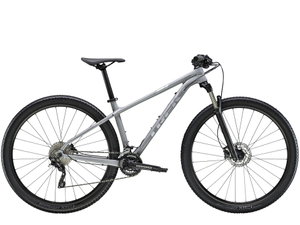 Trek X-Caliber 8
X-Caliber 8 is a cross country mountain bike made for fast laps and long days on the trail. It's built with special attention to value and the parts that make the biggest difference in performance. A Shimano drivetrain, RockShox fork, and hydraulic disc brakes make it a great choice for new mountain bikers and XC racers searching for fast, fun, singletrack adventure.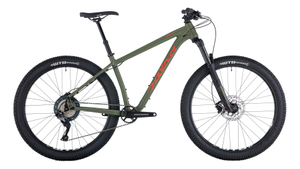 Salsa Timberjack 6
Timberjack SLX 27.5+ features modern trail bike geometry and short chainstays for nimble scrambling, making it perfect for navigating tough trails. The RockShox Recon RL fork is made for aggressive riding, absorbing the punishment so you don't have to. Shimano SLX gearing offers excellent responsiveness to ensure nothing stands in your way. Whether you're looking to tackle technical singletrack or a multi-day adventure, the Timberjack has your back.
Fitness/Hybrid
The fitness/hybrid bikes have exploded with popularity for their versatility and economics. They are light and comfortable, and can feature a range of gearing for varied terrain. The bike can be your workout, your transportation, or both. These bikes can take you exploring for 3 hours, or take you to the grocery store. See a few here.
Trek FX Series
The Trek FX Series are our best all-around sellers. They are great bikes for fitness, transportation, commuting, and strolling. With a huge range of specs and prices, there's one for you.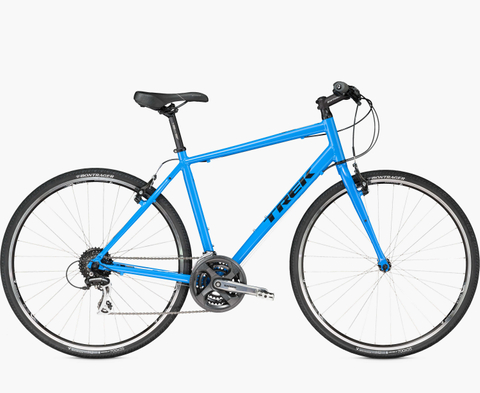 Trek FX 7.2
The 7.2 is a light, nimble, and versatile fun machine. The 24 speed drivetrain makes it a great fitness bike that can go anywhere, and its rack mounts make it a useful city commuter.
Custom Bikes
If you are a seasoned cyclist who is ready to treat yourself to a bike built just for you, check out our custom program. Our custom brands, Moots offer ssome sublime builds in road, mountain, and cross bikes. A custom experience starts with a consultation to learn about your needs, be they aesthetic, ergonomic, or athletic. We size you precisely and specify each part from spoke to stem. Come in or give us call to start your custom journey.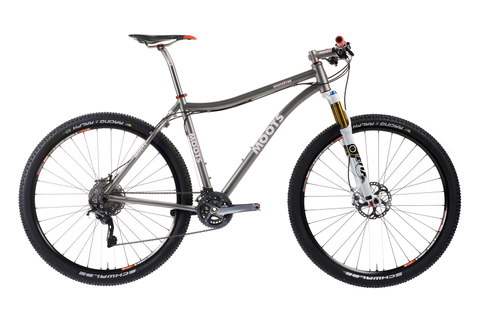 Moots
Moots makes some of the finest titanium frames and bikes on the road. Their attention to detail is unsurpassed, and they pride themselves in being bike riders first, so their understanding of cyclists' needs are prime. That could explain why Moots bikes are known for their supple, responsive ride.
Kids Bikes
When you buy a kid's bike from us, don't worry about growth spurts. Bring your old bike back within 2 years and we'll give you credit towards a new one. We have bikes for all ages, including balance bikes, trainers, and geared mountain bikes. Plus, Trek bikes fit kids great, right from the start. And because our Dialed components adjust along with growth spurts, you can dial in the perfect fit for years to come.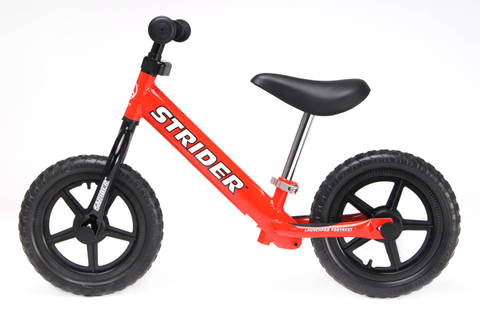 Strider
The Strider is a must have investment and teaching tool. The little ones love coasting on it, and before you know it, they are riding on their own. It's a great way to skip the training wheels.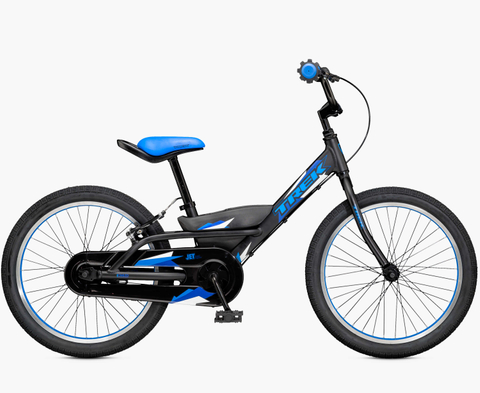 Trek Jet
The Jet is a great beginner's bike that can be your kid's milestone bike, transitioning from training wheels to solo. The Jet is available in many sizes and color schemes.